K'ya Bistro Bar
K'ya Bistro Bar is located in the historic, La Casa del Camino hotel in the heart of Laguna Beach. With small plates and an emphasis on sharing, K'ya Bistro Bar offers a diverse menu with flavors from the Mediterranean and a local bistro appeal at this restaurant near the beach. This Laguna restaurant is a stone's throw from the beach and reflects a lively San Francisco-esque atmosphere. Guests can enjoy a private table, or have a drink by the fireplace before or after dinner in the comfortable lobby lounge. This is one of the local beachgoers favorite bars in Laguna Beach.
The Rooftop Lounge
A local favorite and a must see for visitors, The Rooftop Lounge offers a front row seat for spectacular sunsets. Indulge in fresh fruit mojitos at one of the best happy hours in town, while enjoying the breathtaking panoramic ocean view and sampling small bites of California casual cuisine.
Marine Room Tavern
Established in 1934, this historical bar just marked 81 years! Home to over 150 Whisk(e)ys. Live music performances 7 days a week.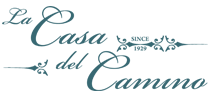 La Casa del Camino Restaurant & Bar
1289 South Coast Highway
Laguna Beach, CA 92651